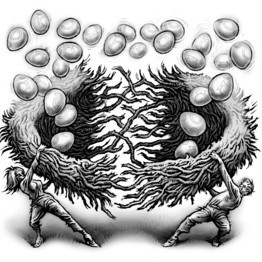 In dividing property in a divorce, often times the court will award a portion of one's retirement plan to the other spouse. When this occurs a special order must be prepared for signature by the judge. This order is known as a Qualified Domestic Relations Order, or QDRO for short. This order is an order, separate from the divorce decree, that orders the plan administrator of a retirement plan to cut out the non-participating spouse's portion and assign it to a separate account for the spouse receiving the divided portion.
Drafting a QDRO can be a complex and arduous task even for the most experienced family law attorneys. Our firm will take the headache out of preparing a QDRO and getting it approved by the plan administrator. Once the case is settled or the judge has made a ruling, the attorney responsible for preparing the QDRO can simply provide a copy of the ruling and fill out a short form and submit them to us. We will prepare the QDRO get it pre-approved with the plan administrator and return it to the attorney. The attorney needs to simply enter the order when they enter the divorce decree and return a certified copy to us. We take care of submitting the QDRO to the plan administrator and getting the final QDRO approved. The attorney will receive a copy of the approval documentation for his or her file.
A QDROs is used to divide a portion of the employee's retirement, pension, 401K or other similar deferred compensation plan. However, there are other cases where a QDRO is used to recover child support. Because of the complex issues involved in these orders, it is often more cost effective for an attorney to hire outside help in the preparation of these orders. Our firm strives to make the QDRO process as cost effective and easy as possible.
Our firm handles all types of retirements, including defined benefit plans, defined contribution plans, federal, state, and local retirement plans, military plans and private employer plans.
CALL US TODAY FOR A CONSULTATION
(817) 741-5323
QDROs are prepared on behalf of other attorneys who have requested our services. We work for the attorney and have no direct contact with the client. We charge $300 to prepare the QDRO. This price includes the preparation of the QDRO and submitting it to the attorney. Once entered by the Court, a certified copy should be returned to us and we will submit it to the plan administrator for final approval. Any needed changes will be made at no extra cost.
We will also review a QDRO for an attorney for accuracy for a fee of $100.
In certain situations we will prepare QDROs for individual clients for a fee of $300. It is the client's responsibility to get the QDRO entered with the Court and a certified copy back to us.
It should be noted that many plan administrators are now charging a fee for the review and processing of QDROs. This fee is born solely by the client and is usually taken out of the proceeds of the retirement plan.
Our firm looks forward to serving your QDRO needs. While we cannot guarantee the time it will take to have your QDRO prepared and sent, most QDROs can be ready in ten days or less. In some instances it can take up to two to three weeks, depending on the plan administrator. For further information or to request our services, please call or email us. To obtain the information form necessary for processing your QDRO request click on the "QDRO Information Sheet" button to the left. It is our goal to make your QDROs preparation as simple and inexpensive as possible, and we look forward to serving you.
When you need someone to stand up and fight for your rights and interests, The Griffin Firm can help you. Contact our Keller, Texas divorce lawyers by calling 817-741-5323 to schedule a consultation. We are conveniently located to Fort Worth, Alliance, Southlake, Westlake, Colleyville, Trophy Club, Roanoke, Grapevine, North Richland Hills, and Watauga. Our attorneys practice in Tarrant, Denton and Wise counties.